When you're comfortable in your own skin, you can feel at home anywhere and with anyone. Oliverian is a safe place to discover and create yourself, make real friends, and find your purpose. Equipped with those things, home is wherever you happen to be.
Our small dorms and robust faculty presence (virtually all of us live on campus) create a strong, safe sense of family. Even students who have felt chronically out of place can make close friends, fit in, and feel at home. The confidence and skills that come from this sense of home away from home is critical preparation for a successful transition to college and young adulthood.


Find Your People
Our dorm parents — part parent, part mentor, part big brother or sister — love, nurture, and coach, but never coddle, allowing students to learn from their own social successes and mistakes. Students are encouraged to solve their social problems with adult support, not interference, and to learn how to independently make and manage relationships.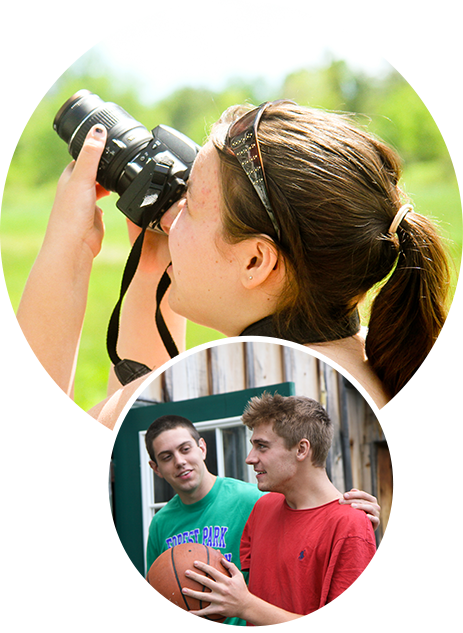 Freedom and Support
Traditional schools rely heavily on a student's presumed desire and ability to conform (to the school's cultural norms and conventional adult expectations) while therapeutic schools rely on external structure (points, rules, level systems, external rewards and consequences) to encourage compliance. Conformity and compliance have their place in the world, but we're after something different at Oliverian. We want students to learn how to navigate the kinds of ambiguous situations they will routinely face after high school, including how to manage their time, express and abide by their own values, navigate social situations, and be themselves despite peer pressure.
We give students enough day-to-day freedom to make mistakes and enough support to learn from them. With a 40% failure rate among first year college students coming from settings that rely on conformity or compliance, our job is to help "life-proof" our graduates. Only by struggling with freedom do students learn how to manage it. At Oliverian, they learn that skill in a safe setting instead of in the unstructured, high-stakes world of college and young adulthood.
Residential Program Features

Student-selected activities

Adventure recreation including rock and ice climbing, skiing, surf lessons, and snowboarding; campus access to miles of wilderness trails — including the Appalachian Trail

On-campus mountain biking course

Healthy, locally sourced (often organic, free range, and grass fed) chef-prepared meals


A warm family atmosphere with our faculty's spouses, pets, and children always in the mix

Full fitness gym (free weights, machines, spinning bikes, elliptical trainer, rowing machine, treadmills)

Wellness classes including yoga and meditation

Lots of weekly outings to restaurants, shopping, movies and other.

Clubs such as Cooking, Tea Club, Discussion Club, Gamers Club

"Open home policy" among on-campus faculty — including cookie baking, movie nights, family time, and meals