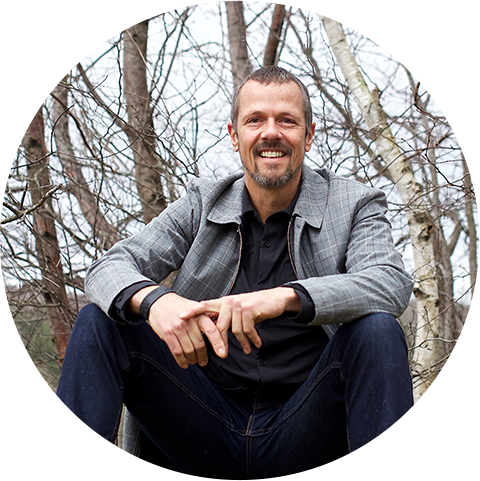 Dear Prospective Parents and Students,
I should start by saying that I absolutely love this school. Our faculty, board, students, and parents are unlike any school community I've been a part of in my thirty years as an educator. As a collective, we are warm, smart, quirky, fun, compassionate, and deep. We care about each other. We care about this place. Having just started my family—albeit a bit late in life—I can't imagine a better place to introduce my little boy, Colton, to the concept of community.
A few years ago, this community took a complicated mission statement, stuck it in the proverbial sauté pan, turned the heat way up, and boiled it down to just a few words: "we help young people find their place in the world." That's a simple goal, yes. But it's not an easy one to achieve. Finding one's place in today's world requires a profound sense of confidence, purpose, agency, and—perhaps most importantly—human connection.
Every year, semester, week, and day here I see undeniable evidence that our mission is being accomplished. We receive dozens of calls, Facebook posts, emails, visits, and even old-fashioned letters from graduates eager to share their latest victories, setbacks, loves, heartbreaks, perplexities, and adventures. I'm most struck by the fact that they don't just call us when things are going well. That's because they know that real love isn't conditional—something most of them learned at Oliverian.
In our impatient, virtual, screen-obsessed culture, the fundamental ability to connect well with oneself and others is no longer a given. It's increasingly rare. And yet, both common sense and current research indicate that this ability to connect deeply with others may be the best predictor of a young-person's prospects for future success and happiness. It's fundamental to learning, loving, working, and thriving. Seeing our graduates so at ease in the world—but first in their own skin—is heartening evidence of Oliverian's missional success.
I'm grateful to be a part of this remarkable little school with its deceptively simple mission. If you're considering joining this community, I look forward to meeting you and answering any questions you might have. For the right student, Oliverian is a transformative place.
Warmly,
Will Laughlin, M.A., M.Ed.
Head of School